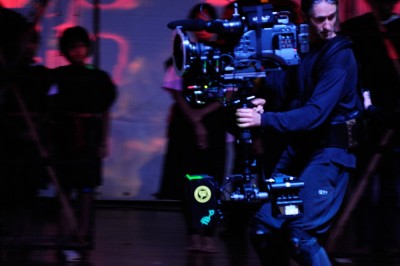 Christophe ivins is an active member of the Visual Effects Society and the Society of Camera Operators, for which he has served on the Board of Governors. Christophe has shot and operated camera and steadicam for productions such as Darren Aronofsky's Noah and the Academy Award winning West Bank Story, in locations as far away as Cambodia, India, Germany, and glaciers of Alaska, and in Bosnia and Herzegovina, and Hungary, during deployment with NATO Peace Implementation Forces. He has worked on visual effects for many studio films, most notably Titanic, Avatar and Life of Pi, and has also taught compositing. ivins has been featured on the cover of the international magazine P3 UPDATE and was a recurring judge at the annual Xanadu Film Festival.
     His parents Anthony H. and Dorothy J. ivins, were his first two art instructors, famous for pottery and accomplished at teaching painting and dance. They had Christophe attending college art classes at Chaffey College, California, while he was in elementary school. He was introduced to stop motion filmmaking classes at age seven by a third instructor, his eleven year old brother and visual effects supervisor to be, Anthony 'Max' ivins.
      Christophe also learned motion picture production from in front of the camera in his early years, when he played various roles including Captain Meriwether Lewis of the Lewis and Clark Expedition in the IMAX film The Great American West. He received a Bachelor of Fine Arts at the University of Utah and completed a certificate in Film, Television, Video, and New Media at UCLA Extension, and two certificates in Expanded Cinematography with Vilmos Zsigmond, ASC and Yuri Neyman, ASC at the Global Cinematography Institute. ivins is a member of the American Legion Post 43.